by Koozma J. Tarasoff
Speech delivered to Toastmasters International in Ottawa, Ontario March 10, 1999.
All rights reserved by the author.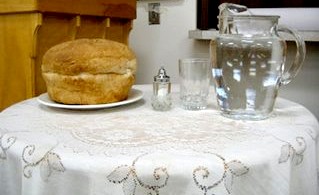 Most of us know that Bread, Salt and Water are the basic staff of life. However, how many people know that these common ingredients found in our homes have the power to bring people together and nurture the spirit of friendship?
Let me illustrate what I really mean by bringing together the wisdom of the ancients with those of my personal experiences in modern times.
Many, many, many years ago, in what is now Russia, there were warring tribes who killed one another for various reasons. Perhaps they encountered a group of people whom they defined as being 'different', therefore 'evil'; being 'heathen', therefore anti-God; speaking a strange tongue, therefore 'ignorant'; or following an outlived dictum 'My country right or wrong, but my country.'
Yet on some remarkable occasions, because of exhaustion or otherwise, these warring tribes came together in friendship. Although they often did not speak a common language, they understood the ancient wisdom when brad, salt and water were brought before them. This was the time to make peace.
Warriors would put away their swords and sit down. Food would be brought in and they would gorge themselves in a meal. But the door-opener for peace was brad, salt and water.
It is well to recall how our own country came into being in 1867. John A. McDonald had a problem with four 'tribes': Prince Edward Island, New Brunswick, Nova Scotia and Ontario. He called a meeting of representatives who were soon to become the fathers of confederation; he brought in a load of booze and instructed this group to drink and eat together until t hey came forward with an appropriate solution: Canada.
In modern times, I have seen that same folk wisdom used in Vancouver, British Columbia in the early 1960s when I was working on my Masters Degree in Anthropology at UBC and living in the city. One afternoon there was a knock on the door. My wife opened it and found a local Slavic couple, Ivan and Natalie, who had come to welcome us to the city.
Natalie gave us a loaf of bread and a jar of salt with an embroidered sash neatly folded underneath. As we exchanged words of welcome, I soon realized that this was part of that same ancient tradition of strangers ritually crossing boundaries. We both felt good as t he aroma of the fresh bread enticed our nostrils and drew us to our youth when our mothers and grandmothers regularly baked home-made bread, while the embroidered cloth spelt Beauty. We felt like we had received the Key to the City.
My own Slavic ancestors placed these basic ingredients on a table in front of all official meetings, a prayer service, or at the opening of a concert. For my generation, this still is the proper thing to do.
In Ottawa when I first observed the Sergeant of Arms carrying in the Mace into the House of Commons, indicating that Parliament is about to begin, I discovered here a similarity to the old Slavic custom of placing bread, salt and water on the table. The intent was the same. We are all human beings worthy to be civil in word and deed. (In the House of Commons, the presence of the Mace may not always guarantee civil order, but that is the direction and the intent.)
The Cold War Years of the 1960s to the 1990s was another test of my observation about these common basic household goods. This was the time when the West — especially the Americans — looked upon the Soviets as 'better dead than Red' and the Soviets in turn looked on the West as 'those rapacious capitalists who fanned the flames of war.' As a bridge builder, I did my bit during this difficult Cold War period in bringing about understanding between the East and the West. Several times I led a group of Canadian and American tourists to the villages of southern Russia.
Our tour bus would invariably be met by a group of villagers and amongst them usually was a beautiful woman, dressed in a traditional costume, carrying these friendship symbols. Like an Ambassador of Goodwill, she should invite us to break a piece of bread from the large round loaf, dip it into the container of salt and eat it. And this we gladly did. The ritual would continue around the circle while our group leader would exchange greetings with local villagers after which a scrumptious meal would be served. Of course, all of this was accompanied with an abundance of drinks (not just water), singing ('
Ochi Chiornaia
…'), many toasts for peace, for friendship, for the guests and the hosts; and for beautiful women. You might call this: 'breaking bread' par excellence!
On these and other occasions, the Cold war barriers would come down momentarily if not permanently — largely because of those common ingredients found in our homes — ingredients which we often take for granted.
If there is a moral to this story, it is this: Do not underestimate the use of bread, salt and water not only to nourish our bodies and our souls, but especially to be aware of the magic powers these items have to bring people together as equals in a spirit of friendship in our world community called Planet Earth. Our love and our gratitude to these simple but basic ingredients of the universe.