SASKATOON — The old man and the Doukhobor teenager from Saskatoon sprawled out in a California mansion one winter day in 1953.

Theirs was an unlikely friendship, carved from long-distance correspondence and a mutual love of dusty baseball diamonds. Now, it was time for the great Ty Cobb to cement the bond by presenting his shin.

Up went his pant-cuff. Out came a leg, criss-crossed like a thatched roof.

Young Koozma Tarasoff cast his eyes on the spike-wound stitching that ran from foot to kneecap. Cobb was 67. He'd carried those scars, permanent reminders of a violent career in baseball, for decades.

It was Tarasoff's first and only up-close look at Cobb's history-book legs — the thoroughbred engines that powered a tempestuous roll through baseball's record books.

Tarasoff said he felt overwhelmed, looking at the tears and marks that covered Cobb's legendary shins. He knew that the scarring represented years of domination on the baseball diamond and to get to see those scars up close was something Tarasoff would have previously only dreamed about.

In fact, the whole crazy journey from snowy Saskatchewan to sunny California was like something out of a dream: Tarasoff took his first plane ride; his first peek at television; his first look at a sprawling mansion.

At the centre of it all was Cobb — a baseball devil with a quiet dash of angel — and his unlikely friendship with the Saskatchewan-raised grandson of Russian immigrants.

Cobb showered gifts on Tarasoff, wrote lengthy letters outlining his philosophies on life and baseball, and arranged a professional tryout for the ambitious young outfielder.

There was no evil afoot during the two days Tarasoff spent at Cobb's home; no oppressive and demented displays from a man widely known as a hate-filled, bitter, tormented soul.

Cobb treated his pal to generous helpings of ice cream. He took him to a smorgasbord restaurant. He potty-trained his dog — Cobb setting the example by peeing into a bush outside his mansion, the dog following obediently.

This firestorm of a man placed young Tarasoff under his protective embrace during a friendship that lasted nearly three years.

"It was a real opportunity," said Tarasoff. "It was a great learning experience and I learned a lot from the attitude of Ty Cobb."

Tarasoff — now an Ottawa-based writer and historian — donated Cobb's letters to the Saskatchewan Archives Board in 1994.

They were painstakingly hand-written by the old man himself.

"You should make a good ballplayer," Cobb scrawled during one five-page letter, full of hitting tips and advice on psychological preparation. "You have the right spirit and interest."

Tarasoff's baseball career never panned out. The correspondence slowed, then stopped. But during those wonder years, Cobb flashed a kind, helpful, selfless version of a guy many people believed was beyond redemption.



* * *



The two met at a baseball camp in the Ozarks during the summer of 1952.

Cobb was there briefly as a guest instructor; Tarasoff as a leather-toting teen fresh off a marathon bus ride from Saskatoon.
Cobb saw something in Tarasoff right away. He liked his place-hitting, sliding, and spirit. He picked Tarasoff out of the crowd of boys, and forged a friendship.

Cobb gave Tarasoff a fresh new baseball, and signed it. A few days later, Tarasoff received a lengthy letter, plus an exact replica of the thick-handled Louisville Slugger bat Cobb used during his playing days. Cobb later sent a personalized bat embossed "Genuine Tarasoff Louisville Slugger", along with an offer to write the company and drop Cobb's name if he wanted more.

After that first meeting, Cobb established a postal pipeline between his homes in Arizona and California, and Tarasoff's Saskatoon address.

Cobb dished out advice, provided conditioning tips, and penned detailed instructions — complete with hand-drawn diagrams — on how to make protective "sliding pads" out of sheep skin and sateen. Tarasoff was overwhelmed.

"The sheep's skin would be against your skin and the flannel part would be loose so when you slid it moved," he said. "He had a real concern for young people and wanted to pass on his (baseball) information."



* * *



Cobb's life was a well-documented shop of horrors.

When he died in 1961, the listed cause of death was prostate cancer, diabetes and heart disease. Just three ex-players attended his funeral.

Cobb, believed by many to be the greatest player in baseball history, spent his final years mixing Jack Daniels bourbon with milk in an effort to kill his relentless physical pain. He toted (and sometimes fired) a handgun, carried a million dollars in securities in a brown paper bag, and railed at the world.

Writer Al Stump painted that wretched portrait after spending extended periods of time with the old ballplayer in 1960 and 1961. He worked with Cobb on a ghost-written autobiography, despite warnings from onlookers.

"In baseball," one former player told Stump, "a few of us who really knew him well realized that he was wrong in the head — unbalanced. He played like a demon and had everybody hating him because he was a demon ... He carried a gun in the big league and scared hell out of us. He's mean, tricky and dangerous."

Sportswriter Jimmy Cannon once opined that "the cruelty of Cobb's style fascinated the multitudes, but it also alienated them. He played in a climate of hostility, friendless by choice in a violent world he populated with enemies."

Some people speculate that Cobb was psychotic; Cobb himself once said, "Sure, I fought. I had to fight all my life to survive. They were all against me and tried every dirty trick to cut me down. But I beat the bastards and left them in the ditch."

That Cobb collides head-on with the Cobb who built a hospital in his hometown of Royston, Georgia, who quietly sent cheques to old baseballers going through hard times, and who established a foundation that continues to put impoverished youths through college.

Into this constant battle between good and evil walked 19-year-old Koozma Tarasoff of Saskatoon, Sask. He saw the good in Cobb. He saw it over, and over, and over again.

"I had a very positive experience with him," Tarasoff said. "Sure I've heard he had a bad, Irish temper. But, that didn't matter at all, he was a good human being and I think his actions show things."



* * *

In October 1952, Cobb offered to set his new friend up with an all-expenses-paid tryout with the Pittsburgh Pirates — a trip that, soon enough, included an offer to spend a few days with Cobb at his winter home in Menlo Park, California.

"You write me if you would like a tryout," said Cobb's letter. "Your expense will be paid, also will be under a fellow who broke into major league under my management at Detroit, Fred Haney of Hollywood, Pacific Coast League. He is fine with young and serious boys, he will tell you much that I have told you in the short time as he uses what I coached him in."

So Tarasoff hopped on a California-bound airplane in February 1953 — smiling nervously, his future uncertain, but with Ty Cobb waiting on the other end.

While Tarasoff's buddies back home trolled the hockey rinks and snowy pathways of Saskatoon, the kid hobnobbed with a baseball legend. After a brief stopover in Hollywood, he headed off to spring training with dozens of other young hopefuls.

It didn't go well.

The Canadian teen was rusty after not playing ball all winter. Despite regular training, his throwing arm hadn't been exercised regularly during the winter months and was not ready for the rigours of a pro camp.

Tarasoff's team played an exhibition game against an all-star squad that included Ted Williams and Satchel Paige. Cobb came to watch. He perched in the stands, hoping to see his young protege in action, but Tarasoff stayed in the dugout.

"I guess I held back too much. I didn't make the team. I just hesitated," said Tarasoff.

Cobb left disappointed; the two never saw each other again, though they wrote back and forth a few more times over the next year. Tarasoff sent Cobb about 20 pounds of Canadian bacon, a delicacy that the all-star slugger loved; Cobb returned the favour by offering some career advice:

I was disappointed also surprised to know of your showing with tryout down here. I thought with natural development since I saw you in Missouri you would be able to show enough for them to send you to a smaller league. I considered you were fast on feet, a good arm and good fielder. I did not see enough of your hitting to say about that. Anything worth doing or having a desire to attain, one should do a thing well and it takes work and effort, also study. Always one will be judged on what they see so what you showed them down in your tryout must not have convinced them. One is or should be always out to excel in every way.

I have thought possibly during fall or winter or spring since I saw you in Missouri that you had injured your arm, also legs. Now if you want to play baseball then get with any club, amateur, semi-pro or whatnot where you can play a lot of baseball and if you fail there then forget it all and go for something else.


Hope you luck.

Sincerely, Ty Cobb.




* * *

Tarasoff, on the phone from Ottawa, talks about Cobb for nearly an hour. His memories are both vivid and warm.

Tarasoff went on to become a writer and ethnographer. He's regarded as the world's foremost authority on the Doukhobors and has published several books.

He says his time with Cobb sent ripples through his life that have never completely subsided.

"How many stars would actually do this — help a young kid from Saskatoon, Sask.?" Tarasoff said. "That was nowhere for him. He'd never been to Saskatchewan, but he helped me. That says a lot about Ty Cobb, I think."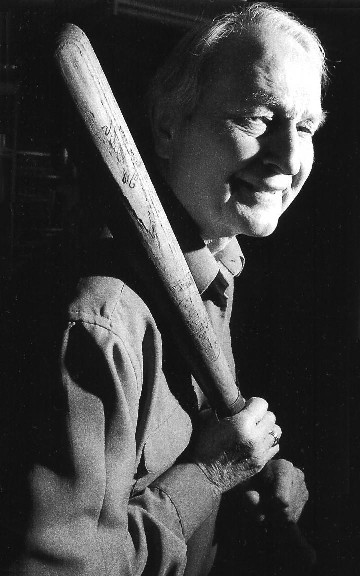 CREDIT: Jean Levac, the Ottawa Citizen
Koozma Tarasoff was just a child when Ty Cobb took him under his wing and taught him the secrets of baseball. He is holding an autographed Ty Cobb bat.
Click here to enlarge photo in new window.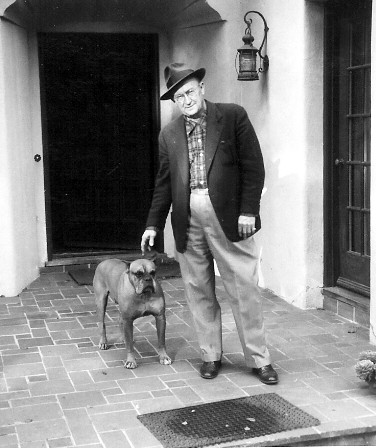 Tyrus R. Cobb with his dog at Menlo Park, California, February 1953.
Photo by Koozma J. Tarasoff. © Copyright reserved by photographer.
Click here to enlarge photo in new window.

---
E-mail Sent: February 27, 2008
To: tarasoff@spirit-wrestlers.com
Subject: Ty Cobb

Dear Mr. Tarasoff,

I am an 18 year old player and coach for an elite select baseball program. I have long modeled my game after Ty Cobb, who is the greatest ball player to ever step on the field. I recently came across an article 'The sweet side of Ty Cobb' that piqued my interest.

I coach the 15 year old team for our program. My goal all along has been to teach these young players the exciting style that Mr. Cobb played with. I understand that they are young, but it seems none of them have the fire in them to play that style. Whats more, I can hardly convince them the bunt is even a part of the game. It appears to me as if they are only concerned with power. I have been doing all the reading I can about Cobb and his style, but there is very little that I can find to help me teach his methods. I was hoping you could recall the ways in which he impressed any knowledge upon you.

I would like to thank you for even reading my email. I have an awkward feeling in my stomach just at the thought of contacting someone who was befriended by a legend and hero of mine, one who died very nearly 3 decades before my birth. I appreciate any help you can give.

Many thanks,
Sam Brownell
__________________

Dear Sam,

I can imagine how you feel about Ty Cobb and his unique expertise in the game of baseball. I felt the same way when I was your age.

I had the pleasure of meeting him in the early 1950s, corresponding with him and visiting him in his winter home of Menlo Park, California. You can get some of the details by contacting Nadine Charabin of the Saskatchewan Archives in Saskatoon (ncharabin@archives.gov.sk.ca) and asking about the Cobb material in the Koozma J. Tarasoff Papers.

One of the items in that collection is a booklet on the Science of Batting which Cobb sent me. Here are some of the tips that he wrote:

'Take all your best hitters — they stand up and have the look of a batter.'
'I strongly favor the hitting to all fields....The ability to send the ball into one field or another by design can be developed by practice and the use of the "closed" or 'Open' or "sqiare stamce....'
'Always keep behind the plate to protect yourself from curve balls....'
'Do not crowd the plate....'
"Keep your arms, and particularly your elbows, away from your body....'
"Try never to let a defensive thought enter your mind. Make yourself believe and think you are better than the opposition'.
'Now my final word is — get the proper fundamentals, practice and practice them, and take care of yourself physically.'
In one of his letters (November 16, 1952), Ty gave me instructions in making wonderful sliding pads using sheep skin with wool. You can order a xerox copy of that letter from the Archives.

For Ty Cobb, baseball was largely a science and a profession. He continued to experiment in how to play the game well and achieve the desired outcome. He was thinking all the time in how to 'trick' the other team. He used his peripherel vision to see where there are gaps in the field and it is there that he tried to bunt or hit the ball in that direction. His success could be attributed to a number of things including using his senses well, training well, and having the right attitude. Many of these things can be learned througjh time.

My well wishes to you in this wonderful sport. Keep up the good work and have fun in doing it.



Sincerely,
Koozma J. Tarasoff


______________________

From: "Charabin, Nadine SA" <ncharabin@archives.gov.sk.ca>
Sent: February 28, 2008
To: tarasoff@spirit-wrestlers.com
Subject: RE: Ty Cobb

Dear Koozma:

Thank you for sharing your correspondence with Sam Brownell. I have forwarded these notes to the rest of my staff, so they are aware that they might receive an inquiry.

Your note reminded me that I wanted to tell you about a very successful event we had here in Saskatoon to celebrate Archives Week in Saskatchewan, Feb. 4-10, 2008. Here is a brief description of that event:



SASKATOON: TUESDAY, FEBRUARY 5

Spotlight on the Past: Celebrity Readings from Archives in Saskatchewan — Frances Morrison Library, 311 23rd St. E. (Theatre), Saskatoon — 7:30 p.m.

Baseball tips from Ty Cobb

; author Wallace Stegner's defence; ideas for a new social order; the allure of the Temperance Colony; and "the brightest, happiest social life in Western Canada." All this and more can be found in your local archives!

Join us for an evening of archival readings and discover Saskatchewan's past — both frivolous and foundational.

With Readings By: Lieutenant Governor Gordon Barnhart, former Premier Allan Blakeney, writer and performer Brenda Baker, author and historian Don Kerr, CFQC news anchor Rob MacDonald, and author Yann Martel. Presented by the Saskatchewan Council for Archives and Archivists and the Saskatoon Public Library.


As I am sure you will guess, the

baseball tips from Ty Cobb were actually read directly from his letters to you

. These were very will read by local news anchor, Rob MacDonald, and were very well received by a large crowd (on a cold February night) at the Saskatoon Public Library. I feel very fortunate that I was the lucky one who arranged and described your fonds, and who stumbled across these wonderful letters in green ink one quiet afternoon in a backroom at the archives!

I hope this note finds you well.



Sincerely,
Nadine





---
Also see posting on

Baseball-Fever.com

:
The Koozma Tarasoff Story: Ty Cobb's Good Side
Ottawa Citizen on Ty Cobb being a mentor to Koozma Tarasoff