A book about Russian immigrants is now available in Canada.

Koozma Tarasoff, whose grandparents came to Canada from Russia in the late 1800s, has written a book about Doukhobors.

Approximately 7,500 persecuted Russians came to Canada at that time, and were instrumental in helping Canada grow.

"Canada at that time was looking for immigrants to settle the west," said Mr. Tarasoff. "This book is a history with the focus on the pioneers who had an impact on society itself. We've forgotten to give credit to some of these people who have improved on society over the decades."

The 500 page book wasn't something Mr. Tarasoff decided to write one day. He has been writting about Doukhobors for years, and has made use of many of the interviews he has conducted over the past 50 years. It took four years to write the actual book.

"In the past century, there have been a lot of misconceptions about the group," said the 72-year-old Walkley Rd. resident.

One of the examples talked about in the book deals with the Sons of freedom, who stripped and burned down houses. Although they are Doukhobors, they make up a small portion of the group.


[Click on picture to ENLARGE]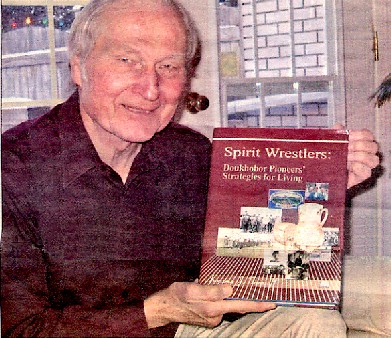 Koozma Tarasoff, has written a new book, called Spirit Wrestlers. Please see page 12 for the story.

---
The book is an easy read for someone who doesn't know much about the history, but at the same time can be an interesting read for those who know about the Doukhobors, said Mr. Tarasoff. It is filled with 700 pictures and has an easy to follow timeline.

"It's a colourful book about a small unique group of people," said Mr. Tarasoff.

To order a copy of the book, please call Legas Publishing at (613)

823-1132, or e-mail at tarasoff@spirit-wrestlers.com.

The book cost $69.95, but a CD-Rom is sold separately for $30.
See website: www.Spirit-Wrestlers.com