Born in New Zealand, Dr. Hawthorn was a teacher. He earned a masters degree in mathematics but preferred studying native peoples and earned 2 masters degrees in anthropology, the second in Hawaii'; and his Ph.D. in the US. In 1947, he was recruited to be the first anthropologist at the University of British Columbia. In 1949 he began a study of the Doukhobors for the provincial government which was not released until 1952, but its recommendations unfortunately were not followed by the Socred government.

See 3 obituaries published by (1) journalist Sandra Martin, the (2)

Vancouver Sun

and (3)

The Globe and Mail

; and a biography at BC Bookworld. He was also honoured as the founder of the Harry Hawthorn Foundation for the Inculcation and Propagation of the Principles and Ethics of Fly-Fishing (or simply The Harry Hawthorn Foundation) at UBC.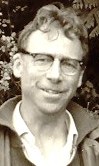 Dr. Hawthorn (photo right from 1963) was Chairman of the

Doukhobor Research Committee

, University of British Columbia. The 1953 Hawthorn report along with the later book (

The Doukhobors of British Columbia

. The University of British Columbia and J.M.Dent & Sons (Canada) Limited, 1955) recommended a comprehensive programme of action for Canadian Doukhobors. See pages 246-251 (of the book) for a Summary of the Recommendations dealing with allotment of former CCUB Ltd. Lands, education, vital statistics, social welfare and public health, franchise and eligibility for office, criminal law, Sons of Freedom resettlement and administration of Doukhobor affairs. His research is kept in the Harry Hawthorn fonds at the University of British Columbia Archives.

In vol. 2, no. 7, August 1955 issue of

The Inquirer

, I reviewed the book on pages 25 to 27.

Soon to be added: Excerpts from the historical 1955 "Hawthorn Report".
---
Entries from the

Vancouver Sun

Guest Book

August 8, 2006
My sincere condolences to the family in the passing of Harry B. Hawthorn. Dr. Hawthorn was one who showed me the wisdom of using anthropological insights to study the local and wider societies. He inspired me to study anthropology at UBC. That legacy led me to study my ancestors the Doukhobors as well as looking at the applied aspects of development. Upon his recommendation, I was Wenner Gren Fellow at the VIIth International Congress of Anthropological & Ethnological Sciences held in Moscow August 1964. I am indeed grateful to Dr. Hawthorn, a pioneer scholar who saw the value of both theory and practice in understanding and building viable human communities.
Koozma J. Tarasoff (Ottawa, ON )

August 5, 2006
My deepest condolences to 'Hank' and all his family, he was a legend in his time and his work played an important role in my own studies of the Canadian Doukhobors. The Hawthorn commission did in fact impact their lives with his recommendation that their form of marriage [by consent] be recognized by the Canadian government. My sympathies, and know that by his honest work he will be remembered!
Nina M. Olson (North Vancouver, BC )