Provocateurs at Protests!
by Koozma J. Tarasoff, Sept. 15, 2007



Throughout their history in Russia and Canada, Doukhobors have from time to time suspected that outside provocateurs have infiltrated their meetings and peace manifestations for the purpose of keeping track of them. Why? Because their ideas of universal brotherhood are dangerous to society. Specifically, they are a threat to the status quo.

Doukhobors and members of the peace movement in general have suspected this, but have found it difficult to prove – until now.

On August 23, 2007, a meeting at Chateau Montebello in Quebec of the Security and Prosperity Partnership summit with U.S. President George W. Bush, Mexican President Felipe Calderon, and Canada's Prime Minister Stephen Harper, and selected business leaders saw peaceful demonstrators being provoked by police officers. Witnesses said 'that police placed disguised officers in the peaceful crowd with the sole intent of starting some violence and possibly a riot.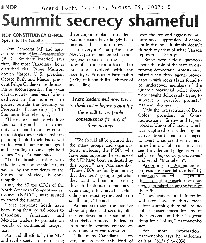 The Quebec provincial police acknowledged that their agents had infiltrated protestors demonstrating during the leaders summit, but denied that they acted as "agent provocateurs" to instigate violence' (Ottawa Citizen, August 14, 2007: A3). They said that they were doing their job to identify potential criminals.

That single incident ought to be clarion call for citizens to be vigilant about their rights as citizens. It is a call to insure that our politicians are open, transparent and democratic in their behavior as elected representatives of the people.

The following article "Summit secrecy shameful" (right, Grand Forks Gazette, Aug 29, 2007, page 9) sets out the seriousness of this issue in our search for a healthy democracy. It was based on an interview with Alex Atamanenko, Member of Parliament for BC-Southern Interior for the New Democratic Party. The constituency includes a multicultural population of many pacifists such as the Doukhobors in the Grand Forks and Castlegar areas.

More: