Florence Chernoff-Lymburner of Seattle, Washington, USA paints in oil and oil pastels. She was raised in and attended public schools in Grand Forks, British Columbia and studied elementary teacher training at the University of British Columbia. Later she lived and worked professionally in western Canada, Germany, Thailand and Japan, and traveled extensively in Russia, the Middle East and the Far East. These experiences provided her the subject matter for her paintings, as well as influenced the manner in which she paints.

Florence has just posted 45 images of her paintings on her new website 'Doukhobor-Russian Reflections' which features mostly Doukhobor women at work and in the community in the Caucasus and Canada. For example, painting No. 8 is on bread, salt and water — 'our symbols of life'. No. 9 'Spring 1898' [1899] is a reconstruction of women plowing the soil during their first year on the Canadian prairies in the spring of 1899. There are views of traditional Doukhobor architecture in Russia and Canada, as well as women at work at the loom, churning butter, pulling water from the well, and praying. Several paintings reveal Doukhobor reverence to world writer Lev N. Tolstoy. The site of the historic 1895 arms burning is featured in No. 28.

While several portraits show facial features, most of the paintings are almost semi-abstract with lots of beautiful colours. Especially No. 9 where women's faces are almost blank revealing the courage and sorrow of their pain as they lean in tandem style on a wooden bar tied centrally to a long rope attached to the plough. They pull, pull and pull ready to go around the world if necessary….

For a biography of the artist, see my book Spirit Wrestlers: Doukhobor Pioneers' Strategies for Living (2002): pages 221-222. One of her paintings reveals the high mountains of the Caucasus where her ancestors had once lived. See brief references to her works at the Grand Forks Art Gallery — Florence Lymburner - Roots 2000 and Vechnia Pamyat (1999); and a reference to her exhibit last year at the Doukhobor Discovery Centre in Castlegar, BC: New Exhibits for 2007.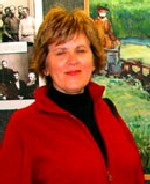 Florence Chernoff- Lymburner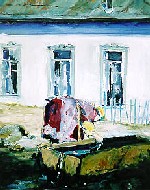 No. 34 Woman doing daily chores at the well in Orlovka village, Bogdovka. —
'I paint scenes that I want to preserve in my mind and heart, not only for me, but others. The Doukhobor villages in Georgia (USSR), which I visited a year ago [1999], are being transformed in recent years due to political/economic problems. When I first saw the village of Bogdonovka, I fell in love. The meaning is "Given by God" — Beautiful ! My early Doukhobor village life from 50 years ago was being viewed before my eyes'.